GOVERNING OURSELVES THROUGH THE GREAT RESIGNATION: Neoliberal Ideology in Discussions of Work on TikTok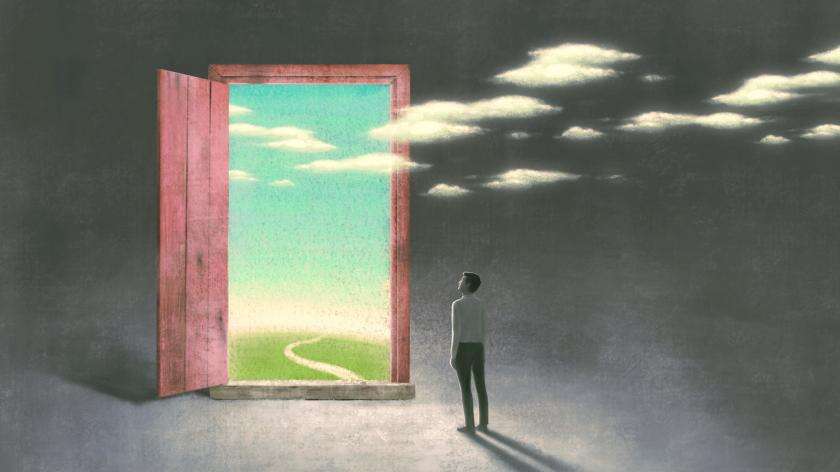 By Tiana Gammie (B. Arts Sc.). A Thesis Submitted to the School of Graduate Studies in Partial Fulfilment of the Requirements for the Degree Master of Arts, McMaster University. Featured Image by Jorm Sangsorn/iStock
---
I. Introduction: The Great Resignation

Early 2021 ushered in the Great Resignation, an ongoing economic trend which has seen workers voluntarily resign from their positions en masse (Sull et al.). While the phenomenon has occurred in many non-Western countries (most notably in China where the "Tang Ping" or "lying flat" social movement protesting toxic work culture exploded in 2021), it has been the focus of extensive research and media attention in the United States and Canada (Weibo). Between April and September 2021, an all-time record of over 24 million Americans left their jobs, and according to Statistics Canada, Canadian companies have seen an 80% increase in job vacancies from 2019 (Sull et al.; Utomi).

The Great Resignation's media representation has been varied, offering many disparate explanations for the phenomenon. A 60 Minutes special assumed the resignations were a result of the added free time afforded by the lockdowns, which gave employees time to reflect on their greater goals and aspirations (Whitaker). Other prominent figures and news outlets have argued that the Great Resignation is a reaction to the precarity and exploitativeness of labour under late-stage, neoliberal capitalism (Greenhouse; Jacobson; Weibo). Generally, it is agreed that the movement signifies a shift in power to the employee; as governments provided increased social security in the form of stimulus checks, and many companies offered more flexibility through remote-work options, workers had increased economic freedom and many job sectors and employers struggled to retain workers (Greenhouse).

Some economists, including former Secretary of Labor Robert Reich, have compared the Great Resignation to a general strike, protesting the "most brutal form of capitalism" (Reich; Jacobson), and highlighting the issues of wage stagnation amid rising cost of living, long-lasting job dissatisfaction, and safety concerns due to the pandemic (Greenhouse; Jacobson; Lichtenstein). As such, some suggest the movement is a result of a collective increase in class consciousness and pro-worker sentiments (Jacobson). The Great Resignation has also been strongly associated with the left-wing, largely social media-based movement that refers to itself as "antiwork". Particular focus has been given to the r/antiwork subreddit– an online forum that draws attention to the issues of wealth inequality and exploitative labour, while supporting thestrengthening of workers' rights through labour strikes and the creation of unions (McMenamin). Certain news sources have even gone so far as to argue that r/antiwork is responsible for the Great Resignation, making the forum the target of immense scrutiny and vitriol in the conservative media (a hostile FoxNews interview with an r/antiwork moderator went viral in January of 2022) (Needelman; Mitchell).

Yet simultaneously, the Great Resignation has been strongly associated with a preference for more flexible, self-driven, and entrepreneurial work. Many people leaving their jobs cite a desire to make their own hours and follow their personal passions as a contributing factor (Sull et al.). Thus the movement also seems compatible with late-stage capitalism's precarious "new ideal of labor" rooted in "neoliberal ideas of… self-enterprise." (Wilson 119). This new standard glorifies work as a venue for self-actualization and development, and asks workers to bet on massive, individual success over steady, predictable income for the many (Griffith). This calls into question the extent to which the Great Resignation is motivated by criticisms of the existing capitalist structures, versus a desire to thrive within these structures. One popular tweet from user @heyjenbartel reads:
The Great Resignation is in fact, the direct result of a decade of companies undervaluing and exploiting workers while pushing the 'Rise-and-Grind Be-Your-Own-Boss CEO-Mindset Hustle-Culture' of the gig economy. Bosses decry labor shortages but all your workers did was believe you. (Bartel)

The "Rise-and-Grind Be-Your-Own-Boss CEO-Mindset Hustle-Culture" mentioned can be seen as a result of the neoliberal values of individualism, self-enterprise, and autonomy, and the "bootstraps mentality" they engender. Implicit in this belief is a presumption of neoliberal subjectivity, which views individuals as self-contained actors whose circumstances are a result of freely made choices (Wilson 119; Rose 230). Thus it seems that criticisms of working conditions have combined with discourses of self responsibilization to fuel these mass resignations. Many participants in the Great Resignation have been under the age of forty (Hoffower). A 2022 Microsoft Work Index study found that 52% of Gen Zs and Millennials in Canada said they would consider leaving or switching their jobs in the next year (Utomi). Some have suggested that this economic trend is a result of young people's changing expectations of work (Hoffower; Brigham). Yet, as argued in @heyjenbartel's tweet, many of the discussions of the Great Resignation on social media espouse narratives that are compatible with the existing neoliberal status quo, positioning work as a means to self-actualization and an important aspect of one's identity.

This paper will seek to analyze TikTok discussions of "the Great Resignation" to see how narratives around work may reinforce a subjectivity of the worker that is rooted in neoliberal ideology. These narratives position work as a venue through which one can receive care, find purpose, and achieve self-actualization, emphasizing the meaning and importance of work to the individual's identity. Adopting these narratives may encourage workers to internalize the values of capitalism, and, as a result, self-govern in ways that further its interests. Thus this social media analysis may elucidate the ways in which, even in light of growing worker dissatisfaction and rebellion, popular social media discourses around work may inadvertently legitimize and strengthen the current economic system, undercutting the radical, anti-capitalist potential of the Great Resignation.

II. Neoliberalism

A. Effects on Labour, Collective Action, and Youth:
Neoliberalism is an economic and political system that posits that human interests are best advanced within a governmental and institutional framework that protects private property rights, free trade, and the free market (Harvey 2). By implementing and maintaining these frameworks, the state ostensibly allows its subjects to make decisions uninhibited by governmental and economic barriers, harnessing their skills and reaching their fullest entrepreneurial potential. While neoliberalism purports to be a "laissez faire" economic system, based on minimal intervention from the government into the workings of the market, in effect, it requires constant collusion between the state and capital in order to function. Wendy Brown expands on this, writing, "Neoliberalism activates the state on behalf of the economy, not to undertake economic functions or to intervene in economic effects, but rather to facilitate economic competition and growth and to economize the social" (62). Hence the effects of neoliberalism extend well beyond the realm of the economic, altering its subjects' understandings of politics, social relations, and themselves (Brown 63).

The effects of this "economization of the social" are well-documented. In her book Undoing the Demos: Neoliberalism's Stealth Revolution, Brown outlines how "neoliberal reason" (27) has permeated public consciousness, flattening understandings of democracy and the human subject into the logic of economics (38). This market-based logic results in the "'entrepreneurialization' and 'human capitalization' of subjects", reframing the individual as a "'portfolio of self- investments' designed to maintain or enhance human capital value" (Brown 38). This creates individuals who have a financialized relationship with the self and their broader communities: within neoliberal reason, well-made decisions are seen as rational, individualized, and calculable in economic terms.

Unsurprisingly, "neoliberal reason" (Brown 27) has drastic effects on the social. By understanding social relations in economic and individualized terms, any sense of social obligation or responsibility for the other falls away, resulting in the "cultural dismantling of mass society into human capital" (Brown 39). Individuals should act in ways that serve their own interests, making decisions based on profit, efficiency, utility and other market values, society be damned. Meanwhile, neoliberalism depends on social inequality in order to function because capitalist economic systems are premised on perennial competition (Brown 42). Thus it creates inequality while simultaneously eroding the sense of social obligation that would motivate people to address it. Economist and labor educator Michael Yates expands on this in his book Can the Working Class Change the World?. He asserts that the interests of capital inherently run counter to those of labour, yet the neoliberal state opts to protect the interests of capital over its labour force, writing, "the state, at every level, is intertwined with capital, labor's primary adversary" (99). The result is a ubiquitous feeling of competition with the other, which further dissolves any sense of social cohesion or "solidarity", weakening the prospects of unified anti-capitalist movements.

This endemic inequality, precarity, and competition has considerable effects on the neoliberal subject's approach to labour. Brown writes:

Today's deproletarianized and deunionized workers enter the "sharing" and "contract" economy, where they transform their possessions, time, connections, and selves into sources of capitalization. By leasing out rooms on Airbnb, driving for Lyft or Uber, Task Rabbit freelancing, bike, tool, and car sharing, or simply managing a variety of part-time or short-term sources of income ("side hustles"), individuals and households aim to survive economic cutbacks and downturns. (38-39).
Within neoliberalism, it is understood and accepted that economic concerns increasingly permeate and form individuals' lives. People anticipate economic precarity and proactively mitigate their risk by turning more and more aspects of their lives into potential streams of income.

Many neoliberal economies are based on the creation of a "favorable business climate" (Harvey 23) for investors, which often means "[resorting] to coercive legislation and policing tactics" that "disperse or repress collective forms of opposition to corporate power" (Harvey 77). Meanwhile, alienation and atomization may prevent the working class from attempting collective action in the first place (Yates 69). Yates outlines historical changes that have altered the forms of alienation experienced by the modern day workforce. While employees once felt removed from the products of their labour due to the expectation that they "simply [carry] out orders" (Yates 69), Yates argues that, under current economic conditions, the alienation experienced by members in the workforce is actually much more acute. Within competitive, late-stage capitalism, workers feel removed not only from the fruits of their labour, but also from their
colleagues, and the impact their labour has on our broader society (Yates 107). Furthermore, the innately racist and sexist nature of capitalism has "generated fundamental splits in the working class" (Yates 80) based on these other social categories, making unified, collective action all the more difficult. This serves to create an environment in which inequality and precarity are increasingly understood as individual problems with individualized solutions. Broad-based, collective movements lose their potency (Bauman 153; Harvey 77; Yates 80). All the while, "working people are exploited and expropriated, making it impossible for them to achieve real freedom, autonomy, and unalienated lives in a capitalist society" (Yates 33).

The naturalization, depoliticization, and general acceptance of individualism and precarity under neoliberalism may have particularly dire effects on young people who have grown up with a "gnawing sense of the transience, indefiniteness, and provisional nature" of their life circumstances (Bauman 76; Giroux The Violence of Organized Forgetting). Henry Giroux argues that neoliberalism's "depoliticizing pedagogical tactics" may normalize this precarity by "[repressing] historical consciousness" and "[producing] educational policies, and practices that crush the capacities necessary for young people… to become knowledgeable and critical individuals". Without access to a critically-engaged historical analysis of the current economic and political system, young people may fall prey to the belief "there is no alternative to gangster capitalism" (Giroux The U.S. Is Descending), absorbing neoliberal ideology and
accepting the social inequality that it produces. This reductive framing of political problems as personal may serve to "infantilize people by offering them few opportunities to translate private issues into systemic considerations" (Giroux The U.S. Is Descending).

B. Government at a Distance and Therapeutic Cultures:
Another powerful effect of "neoliberal reason" (Brown 27) is its ability to indirectly govern its subjects. In his 1999 book titled Governing the soul: The shaping of the private self, Nikolas Rose writes at length about how the globalization of neoliberalism has reconceptualized understandings of the self and the subjectivity of the worker. Adding to Foucault's theory of "governmentality", Rose discusses how complex apparatuses of power have developed "technologies" of "government at a distance" (xxii), which provide new ways of controlling the economy, the workplace, and the worker by connecting "macro-economic policy, the management of the enterprise, and the design of the labour with human subjectivity itself" (60). This allows the state and corporate interests to interfere less directly in the affairs of its subjects while continuing to closely regulate their behaviours:

[The] citizen subject is not to be dominated in the interests of power, but to be educated and solicited into a kind of alliance between personal objectives and ambitions and institutionally or socially prized goals or activities. Citizens shape their lives through the choices they make about family life, work, leisure, lifestyle, and personality and its expression. Government works by 'acting at a distance' upon these choices, forging a symmetry between the attempts of individuals to make life worthwhile for themselves, and the political values of consumption, profitability, efficiency, and social order. Contemporary government, that is to say, operates through the delicate and minute infiltration of the ambitions of regulation into the very interior of our existence and experience as subjects. (10)

The result is a subject who, perhaps unknowingly, self-regulates in the interests of capital, due to the symmetry between culturally accepted values and economically favourable behaviours. Wendy Brown calls this "techniques of governance… through 'soft power'" (35). These techniques rely on "consensus and buy-in" (35) in order to be effective. As such, soft power depends on the subject's acceptance of a sophisticated, neoliberal common sense, which posits capitalism, individualism, consumerism, and competition as natural and necessary. According to Rose, there are two fields in which we can see this move towards self-government most clearly: the changing expectations of labour, and the development of psychological expertise. In the decades since the first world war, the subjectivity of the worker has seen radical transformations. Investigations into methods for improving the efficiency of members of the workforce revealed that tending to their emotional well-being and avoiding "mental and nervous fatigue, monotony, want of interest" (Rose 66) could yield dramatic increases in productivity. Thus began industry's ongoing investment in the psychology of its employees for the purpose of fostering innovation, improving the quality of output, and yielding greater profits.

The result was a reconceptualization of the worker as a subjective individual whose emotional needs and unique skills should be attended to, invested in, and fulfilled by work. In order to meet these goals, industry had to make alienation in labour more covert– workers were no longer to be treated as the extension of the machinery they employed, and obvious exploitation and domination needed to be addressed. But Rose argues that despite the supposed emancipatory potential of these changes, they can actually be seen as industry's attempt to placate and neutralize the worker by "[translating] these socio-economic… and psychological concerns into practicable programmes for the reform of the technical, financial, and political microstructures of work" (109). All the while, workers remained alienated from the products of their labour and each other (Yates 69). Technologies of covert government were developed in
order to naturalize and legitimize existing hierarchies, which at the same time, convinced workers that their labour should be meaningful, gratifying, and a means of self-actualization: "Thus the individual is not to be emancipated from work, perceived as merely a task or a means to an end, but to be fulfilled in work, now construed as an activity through which we produce, discover, and experience our selves." (Rose 104)

Another such technology of "government at a distance" (Rose xxii) was the proliferation of psychological expertise. With the legitimization and subsequent veiling of power imbalances intrinsic to work, individuals' experiences of distress, exhaustion, and discontentment with respect to labour could be framed as a result of their own psychology– abnormal emotional needs, lack of resilience, laziness, etc.– and consequently, as a personal failing or deficit. In Manufacturing Happy Citizens Edgar Cabanas and Eva Illouz write:

Psychology has … [provided] a more neutral and scientific framework to reconceptualize workers' failures or successes in terms of their own 'deficient' or 'optimal' selves, and teaching people to cope with the burden of the risk of uncertain and competitive workplaces in terms of their personal autonomy and flexibility. In other words, the psychological language has made the devolution to workers of individual responsibility for the structural deficits of the work-place more and more possible. (215)

Psychology is a powerful normalizing force, narrowing the standards of acceptable thoughts, behaviours, and feelings. This is premised on a belief in calculable and psychologically knowable individuals, about whom "any relevant information… [is] obtainable through external quantitative methods… [and] taken to have a measurable physiological basis" (Crary Scorched Earth 167). Psychology infiltrates the workplace as a tool of "government at a distance" (Rose xxii), allowing any issues that arise to be framed as individual, totally detached from any defects in the prevailing economic system.

Rose goes on to explain that, as the language of psychology was becoming a persuasive means of governing the worker, it was also increasingly being used as the narrative through which individuals made sense of their own lives and identities. Emotions, intelligence, and personality were seen as psychological in nature– components of one's identity that together form the self. This conceptualization of the self and all its behaviours and experiences as the result of the psychological results in what Rose calls a "therapeutic culture" (219)– a powerful method for enforcing self-governance. Within this culture, individuals' personal identities are the subject of psychological expertise. Those with this expertise can exercise normative power while simply appearing to help individuals manage personal problems. Struggles in work (or any other facet of one's life) can be healed through self-development and responsibilization. Again, within therapeutic cultures, issues that may be systemic in nature can effectively be reframed as personal and psychological. Matters of class, racism, and sexism drop out of these discourses, and any sense of social responsibility is made obsolete.

Due to the cultural shift towards soft power and self-governance, workers no longer need to be subjected to the oppressive and alienating labour described by Marx in order to yield profits; instead, workers govern themselves in accordance with the needs of industry, and when unable to do so, they are distantly managed by these therapeutic "experts of the soul" (Rose 11). Within this culture, it becomes a moral imperative for individuals to take responsibility for their own success, happiness, and well-being. As Cabanas and Eva Illouz write: "the alluring promise of complete self-management easily turns into a threat: not engaging in constant self-surveillance entails the danger of becoming unhappy and unruly beings that do not care much about themselves" (296).

This understanding of neoliberal self-governance and therapeutic cultures gives useful context to the Great Resignation. Rose explains how historical changes in worker subjectivity resulted in "work itself… [being] reformed and managed so that it could become an element in a personal project of self-fulfilment and self-actualization" (103-104). Employees' belief that their labour should not simply be seen as a transaction yielding profits for the employer, but rather, a meaningful aspect of their identity and fulfilling part of their life, encourages them to see struggles at work as resulting from the shortcomings of their particular positions, or personal deficits, rather than systemic issues. As Zygmunt Bauman writes, being a modern individual living under neoliberalism "means having no one to blame for one's own misery, seeking the causes of one's own defeats nowhere except in one's own indolence and sloth, and looking for no remedies other than trying harder and harder still" (38). This individualization and internalization of capitalist values may encourage the worker to self-govern in ways that reinforce capitalism. This can be seen in many TikTok users' discussions of the Great Resignation, where work-related complaints are frequently framed as isolated, personal, or psychological in nature.

C. Atomization, Individualization, and Depoliticization Through Social Media:
Jonathan Crary has written at length about how social media, as a part of the ever expanding digital mediasphere, epitomizes and reinforces late-stage capitalism's mission to colonize all of our time, "facilitating the perpetuation of the same banal exercise of non-stop consumption, social isolation, and political powerlessness" (24/7: Late Capitalism 40). In Scorched Earth: Beyond the Digital Age to a Post-Capitalist World, Crary discusses how social media, as an integral part of the "internet complex" (13), has become "the comprehensive global apparatus for the dissolution of society" (26). Under neoliberalism in the 1990s, the internet– which was once mainly used by engineers, research institutions and military personnel– became freely available and publicly accessible. Crary believes "the shift occurred as an essential part of the massive reorganization of capital flows and the remaking of individuals into 'entrepreneurs of their human capital" (Scorched Earth 25). Hence, public access to the internet was tightly entangled with the interests of capital from its very inception.

In addition to the inherent "separation and atomization of the internet" (Scorched Earth 154), Crary believes social media reinforces capitalism by deradicalizing and depoliticizing social movements: "the fact that social media can circulate only the most easily packaged ideas dilutes and domesticates potentially radical or insurgent programs, especially those which do not produce immediate results, or which might require long-term engagement" (Scorched Earth 30). This has particularly serious implications for young people. Once seen as threats to the values and demands twentieth-century capitalist society, and the demographic most often associated with counterculture movements:

the goal now is to disallow youth from ever having the circumstances in which to imagine and build a future that belongs to them. Instead, there is endless news about young people "creatively" and "disruptively" making use of their digital tools and platforms. The priority is to derail the possibility of a potentially rebellious youth… in order to conceal their jobless, worldless future. (Crary, Scorched Earth 81)

By relegating youth's interaction, identity formation, and activism to corporate-owned online platforms, social media neutralizes young people as political agents, indoctrinates them into the individualistic ideology of neoliberalism, and stifles their ability to connect their personal struggles to broader systemic issues.

As a result, youth are frequently seen embracing neoliberal ideology in their social media posts. In "Disposable Youth: Racialized Memories, and the Culture of Cruelty", Henry Giroux discusses how representations of youth frequently "reduce their sense of agency to the consumerist requirements of supply and demand" (xvi). This flattening of youth's experiences into market values is particularly disturbing with regards to social media discussions of the Great Resignation; on these platforms, even a broad-based, worker-led movement, stemming from frustrations with the current capitalist system, can be absorbed into the individualistic language of neoliberalism.

III. Method

A. Why TikTok?
Social media discourse has been an essential aspect of the Great Resignation and its public perception (Korducki). Though many argue that the r/antiwork subreddit has strongly influenced discussions of the Great Resignation online and encouraged the resignations themselves, it may be a poor representation of most young people's relationship with work (Tenbarge; Franceschelli and Keating). R/antiwork was originally associated with post-left anarchist views, and now represents a broader spectrum of left-wing politics with its underlying ethos being anti-capitalist. Members of the r/antiwork subreddit use the forum to discuss the fundamental exploitativeness of the labour agreement, reiterating that "profits are the unpaid wages of the working class", and arguing that upward mobility is a myth under neoliberalism (McMenamin; 4N4RCHY_).
Yet these political leanings may be relatively uncommon in, and thus unrepresentative of, the under forty age group. In 2018, Franceschelli and Keating of University College London found that despite the ongoing effects of the 2008 financial crisis, the majority of young people were optimistic about their financial prospects. The researchers argued that neoliberal beliefs about "the transformative power of hard work" and "potential of human agency to forge the future" shaped this optimism. When looking at content related to the Great Resignation on other social media platforms and forums, it appears that most users do not take issue with the work arrangement itself, and do believe in their ability to achieve financial security through hard work and discipline. As such, the r/antiwork subreddit may provide a limited and somewhat atypical sample of this demographic's general opinions on work.

TikTok is another platform that has been used to discuss the phenomenon at length. Doing a general search of "The Great Resignation" on TikTok reveals a wide range of content, including comedy skits, legal advice, and leftist critiques of mainstream media depictions of the phenomenon (FriendFromWork; The Labor Lawyer; Travis). In these posts, individuals who have recently quit their jobs cite a variety of reasons; for example, some videos are from entrepreneurs who endorse leaving formal employment to invest in stocks or start businesses, while others users describe leaving their jobs to escape the damaging pressures of "hustle culture" and "toxic productivity" (Silber). Broadly, TikTok users approach the issue from many disparate angles, sometimes framing it as an individual decision made in pursuit of personal goals, while at other times connecting it to larger socio-economic conditions and systemic problems. Therefore, in comparison to the antiwork subreddit, TikTok provides a wider range of opinions on work and the Great Resignation, and may be more consistent with existing research about young worker's opinions on capitalism and acceptance of neoliberal ideology. TikTok was also selected because of its user demographics. Though it is impossible to verify most social media users' exact ages, 78.4% of TikTok users are under the age of forty, making them members of the Gen Z or Millennial generations (Nover). This is one of the age demographics that have been most likely to quit their jobs during the Great Resignation, and the age group at whom this research is aimed (Hoffower). As such, TikTok may contain more commentary from the people most impacted by (or in many cases, actually participating in) this movement than other social media sites which have a larger proportion of users over the age of forty.

In "Why's Everyone on TikTok Now? The Algorithmized Self and the Future of Self-Making on Social Media", authors Aparajita Bhandari and Sara Bimo found that, of the TikTok users interviewed, most had difficulty articulating the role TikTok plays in the social media realm, especially in relation to other social media platforms. Participants most commonly compared TikTok to Twitter, YouTube, Instagram, and Facebook, despite these four platforms "[occupying] distinctly different niches in the current social media landscape, and…belonging to three different 'categories' [of social networks]" (Bhandari and Bimo). They concluded that TikTok's unique features place it "it simultaneously in a variety of social media categories, and none at all: it can be seen as a microblogging site, a social networking site, and a content community, and yet, it departs significantly and fundamentally from each type" (Bhandari and Bimo). TikTok's variety of uses, coupled with its users' disparate relationships with the platform, result in a complex and fascinating range of self-representations from young workers.

B. User Demographics:
This study presents an analysis of constructions and explanations of the Great Resignation on TikTok, as social media discourse on this topic may reveal ways in which neoliberal ideology is both disseminated and opposed in society. Focusing on workers' own self-representations may elucidate popular beliefs about the subjectivity of the worker. The analysis is based on the top one hundred videos that appeared when searching "the Great Resignation" into the TikTok search bar, which have been transcribed and organized according to broad themes.

Based on the content of the videos and the accents of the users, all one hundred of the transcribed videos appear to be from users based in the United States or Canada. This was somewhat unsurprising, as the Great Resignation has had a significant impact in these two countries, and recent mass resignations are frequently referred to with that particular wording ("the Great Resignation") in American and Canadian media (CBC News; Carscallen and Melnick). Women were overrepresented in the results when compared to the general population of Canada and the United States. Sixty-five of the videos were from users who present as women, twenty-five were from users who present as men, six were from inter-gender shared accounts, two were from users who do not appear in any of their videos, and two from larger media companies (with no human subject appearing in the video). People of colour were underrepresented when compared to the general population of the United States (40.7% visible minorities), but overrepresented when compared to the general population of Canada (22.3% visible minorities) (Government of Canada; U.S. Census Bureau). Sixty-four of the videos were from white passing users, twenty-nine were from visible minorities, three were from inter-racial shared accounts, two were from users who do not appear in any of their videos, and two were from media companies (with no human subject appearing in the video). There are no existing statistics about the race and gender demographics of the people actually participating in the Great Resignation, making it impossible to determine how well this selection of online users represents the real movement. This is a significant limitation of this research.

However, the Great Resignation has been researched in terms of age demographics. As mentioned, the majority of participants in the Great Resignation have been under the age of forty (Hoffower). It is difficult to state with certainty the ages of the users featured in the top one hundred TikToks, but eighty-three appear to be significantly younger than forty, five appear too close to the age forty to make any determination, eight are from users who appear to be older than forty, two were from larger media companies, and two were from users who do not appear in any of their videos. While there has certainly been also an increase in resignations and retirements among individuals over the age of forty, the focus of this research project is the opinions of Millenial and Gen Z workers; as such, these TikToks do largely represent the intended age group (Cook).

IV. Analysis:

One of the top videos that appears when searching "the Great Resignation" on TikTok is from user @apowermood, titled "5 signs you should start looking for a new job". The video lists off the following reasons in this order:

1.Your mental and physical health is being impacted 2. You are no longer learning and growing 3. You are underpaid and/or undervalued 4. Your workplace rewards burnout 5. You can't be yourself at work. (Sam)
This TikTok is useful in that it explicitly lays out what this user expects from work. Work is seen as a venue for self-actualization and fulfilment, where you can express your individuality, learn, and develop new skills. The workplace should value and protect the interests of the individual employee, attending to their emotional and physical well-being. With the increased interest in the subjectivity of the worker under neoliberalism, work is no longer seen as a straightforward transaction between employer and employee (Rose 57). The workers' individuality is to be nurtured by their workplace, and when this is not the case, they should find a position that better facilitates their project of self-development. The following sections will analyze quotes from popular TikToks that expand on these assumptions, as well as those that oppose them.

A. The Workplace as a Site of Care: The Desire for Nurturing and Attentive Managers

If your boss has never asked you "how is your life outside of work? Do you know how much we value you? What makes you think about leaving? How can I support you? What are your big dreams?" You're just a pulse and a job to fill… If you feel invisible at work, I want you to know you are worthy of care and belonging. (Eaton)
This TikTok demonstrates the belief that, in Rose's words, "the worker is no longer viewed simply as an automaton, a more or less productive body, but is now seen as a person with subjective and inter- subjective attributes that are pertinent to work" (57). The maker of this video believes that the subjectivity of the individual worker should be valued and nurtured by their boss. The apparent disdain for being treated like a "pulse" and a "job to fill" evinces the turn from direct domination to "government at a distance" (Rose xxii). This focus on worker subjectivity marks a transformation from the labourer described by Marx– alienated, embodied, and subjugated by the bourgeoisie. Under neoliberalism, many workers no longer find it acceptable to be treated as faceless subordinates with tasks to complete; instead, they want to feel, as user @simonsinek says, "included, needed, wanted, seen, understood" (Sinek). These
TikToks confirm that attempts to make workers believe in the value of their unique subjectivity have been successful (Rose; Brown; Cabanas and Illouz).

Yet crucially, despite the apparently liberating and egalitarian nature of these efforts to foster workers' individuality, the inequality between employers, managers, and subordinates has not been meaningfully altered. Rose explains that:

the skills and capacities that mass production transferred to technology and management have not been restored to the worker. Nor have the vast disparities in financial rewards that characterize the organization of production been substantially ameliorated: at root, the rationale of production remains profit for the owners. And, whatever changes may have been made in work organization, workers do not manage themselves. Ultimately the workplace remains hierarchical, with power exercised from above, by bosses and managers, upon those below, whether they are stuck at a machine, behind a desk, or 'servicing' the needs of others. (57-58)
The belief that the worker's individual subjectivity should be cared for may obfuscate the reality that they do ultimately remain "[pulses]" and "[jobs] to fill" (Eaton).

Rather than recognizing the inherently imbalanced power dynamics between workers and management, the focus of many TikToks has been about how to manage more fairly or caringly. This can be seen as a campaign to make even more covert the reality that management and owners continue to exercise power over their subordinates. Doing so may further entrench "techniques of governance… through 'soft power'" (Brown 35) favoured by neoliberalism. Creating an apparently caring relationship between employee and boss, making workers feel valued, appreciated, and equal, may increase the value they place on their employment, causing them to self-govern in ways that benefit the workplace (Brown 37; Rose 58). This is not to say that caring managers have sinister and selfish ulterior motives; however, the historical analysis of neoliberalism provided by Rose sheds light on the complicated ways that nurturing the worker's subjectivity may encourage them to self-govern in alliance with capitalist values.

The emphasis on caring managers can also be seen as an endorsement of therapeutic cultures. The @recklesslyalive TikTok quoted above suggests that managers should have both the desire and the psychological expertise necessary to help their subordinates achieve their goals and navigate personal problems. Placing this within Rose's concept of the "therapeutic culture", this can be seen as a way of exercising normative power over individuals while appearing to take care of them. The result is "a specific and normative model of selfhood defined primarily in psychological and emotional terms and strongly imbricated in and shaped by the market" (Cabanas and Illouz 277). Therapeutic work cultures allow for the hands-off management of workers who aim to achieve their most efficient and successful selves, ostensibly for their own sakes, while simultaneously advancing the interests of capital.

When individuals do buckle under the pressures of an increasingly competitive and precarious economic climate, it is frequently explained in psychological terms. For example, "burnout" is referred to in many TikToks about the Great Resignation (Dr. Kim; Shadé; Sam). This term can effectively explain employees' inability to meet unjust and exploitative workloads as a result of their individual psychology, relating it to abstract traits like resilience, and emotional capacity or "bandwidth" (Dr. Kim). One popular user has even formalized this abstract psychological experience, claiming one can read workers' "disengagement levels on the burnout spectrum" (Dr. Kim). This codified individualization keeps the focus on specific workers, managers, and workplaces, rather than the demands of neoliberal capitalism in general, which in turn, may naturalize and reinforce this system. Some TikTok users even suggest the Great Resignation is a result of bad management:"the best leaders treat people as human beings and genuinely care for others… people quit because of bad management: not being respected or trusted, feeling unappreciated… being treated unfairly, being ignored" (Maxine). Again, this explanation suggests the workplace should be a site of care for the worker, while simultaneously minimizing systemic interpretations of worker agitations (e.g. insufficient wages, rising cost of living, excessive workload, and lack of social security). The implication is that any larger anxieties could be assuaged by better management. TikTok user @demetriKepi reiterates this, saying:

The reality is .. it is glaringly common to have abusive management executive teams and that's why I quit… If companies want to get back on track [with the labour shortage] and get in a position where they can be productive again, then they are going to have to fire their management teams. It's as simple as that. Because they've been so bad to all of us. (DmetriKepi)
By explaining the Great Resignation and ensuing labour shortage as a result of poor management, workers may avoid looking critically at larger socio-economic problems. To suggest that these resignations en masse have occurred because "companies need to start paying closer attention to their leadership culture [and] the way people feel when they come to work" (Sinek) reframes worker frustrations as personal feelings, which may neutralize their larger political potential.

Many theorists have discussed neoliberalism's dangerous ability to dehistoricize and depoliticize inequality, presenting the existing socio-economic order as natural and inevitable (Fisher; Harvey; Giroux). Within this ideology, it makes more sense to blame worker anxieties on individual bad managers than on an economic system that makes life increasingly precarious for the average person (Bauman). Additionally, focusing frustrations on immediate superiors (for example, middle level management), allows the people and institutions with more power– and as such, greater potential to enact meaningful change– to eschew criticism and accountability. Without the ability to connect workers' concerns to broader working conditions, replacing bad managers with caring ones can be positioned as a sufficient response.

B. Work as Source of Purpose and Fulfilment: The Psychological Damage of "Bullshit Jobs" and Pursuit of Passion
Another compelling narrative seen in TikTok discussions of the Great Resignation is the expectation that work be personally fulfilling. This is most often seen in critiques of corporate jobs where employees feel like they are "basically doing nothing but pushing papers around" (Steph & Den). This disdain for work that feels meaningless highlights the expectation that one's work be a source of purpose. David Graeber's concept of "bullshit jobs" is useful here; Graeber argues that the many private sector jobs held in capitalist societies are totally pointless, invented to justify the forty hour work week (3). He suggests that occupying one of these positions can be psychologically destructive within a society that associates work ethic with self-worth. This rings true when considering TikToks describing how it feels to work a bullshit job. The psychological impact of working one of these jobs can feel so violent that in these videos it is frequently compared to death. User @corporatequitter says:

Recognize [that by] staying in your corporate job… you're already dying. If not, you've already died, and you're not even physically dead. Every single day that you spend working a job that you fcking hate, and you have so much anxiety and stress and negativity in that environment… [it's] breeding fcking death if it's not already existing in your body. So, I thought it would make sense to leave because I'd rather actually give myself the chance to live instead of being a zombie. (Gabby)

Holding a job that feels pointless and unstimulating, in a culture so committed to the belief that work is the wellspring of human value, can feel so psychologically damaging that this user compares it to dying.

In another TikTok, user @femhomeec says: "We are exchanging our life force energy, our peace, our autonomy in exchange for a paycheque … our society is built for death, not life. And so the great resignation is happening because power comes in numbers and we are choosing life instead of death" (Liztilia). Again, this user sees staying at an unfulfilling and draining job as a form of "death". The implication is that a meaningless job yields a meaningless life .

Another noteworthy aspect of this TikTok is the implication that it is unjust for the worker to give up their energy or autonomy in order to receive payment. Yet this is the basic premise of employment– a transaction between the subordinate who dedicates mental and physical energy to achieving tasks at the behest of their employer, and the employer who offers payment in return. Narratives around work being a venue through which individuals find purpose may detract from the basic economic premise of employment, enabling work cultures in which employees accept economically exploitative labour on the condition that it is personally fulfilling.

Interestingly, user @femhomeec does not suggest leaving such a draining position for one that is less demanding. Rather, she and many other users endorse leaving current positions if their "passions and… goals are taking [them] elsewhere" (Sam). Thus the issue is not how much energy you give a job or if the compensation is reasonable, but if it aligns with your passions. The belief that one should derive value and fulfillment from one's work remains intact. Framing work as central to one's life's purpose may increase its perceived importance, encouraging workers to prioritize it over other aspects of their lives. Many users believe that the pursuit of more fulfilling lines of work is the primary cause of the Great Resignation: "A lot of people are leaving not… because they have government checks (which is some people), but… because having a job that's just fine is no longer good enough" (Sinek). While this may certainly be the case in many instances, this explanation takes aim at particular lines of work or workplaces, while general working conditions and economic issues remain uncontested. Many teachers have taken to TikTok to oppose this narrative, with teacherexodus on TikTok garnering 6.6M views. These users discuss how arguments around the value of education have been used to justify underpaying and overworking employees in the field (Lindsey; Blueneck Teacher; Millennial Ms. Frizzle). This counterexample shows that, in discussions of the Great Resignation, the narrative around work being a source of fulfillment and meaning has not wholly supplanted concerns about pay and working conditions.

Of course, pursuing one's passions through their work should not be condemned outright. It seems reasonable for individuals to seek a sense of fulfilment through their work– especially when, under the precarity of neoliberal capitalism, most are forced to dedicate extensive time and mental energy to their work in order to survive (Bauman 123). However, it is interesting to note that work remains central to one's life and self-image both in the criticisms of stagnating jobs and the laudation of meaningful ones–the former erodes self-worth and makes the worker feel useless, and the latter becomes a source of purpose and passion. Here we see the effectiveness of the historical changes discussed by Rose (103). By convincing the worker that their own subjectivity was to be nurtured and fulfilled by work, industry encourages its employees to see their labour as central to their identity. This belief may create workers who are more committed to succeeding in their own positions, becoming more efficient, and perhaps even accepting less pay or working longer hours because they see employment as more than a straightforward economic transaction. Hence, framing work as a means to personal fulfilment may encourage workers to self-govern in the interests of capital.

C. The Depoliticization of Inequality and Language of "Stabilizing"
As discussed, neoliberalism is premised upon competition and the unequal distribution of resources, "saturated with class domination and inequality, racial subordination and exclusions, institutionalized sexual difference, colonial and imperial premises and practices, unavowed religious privileges and erasures" (Brown 202). Yet the atomizing logic of neoliberalism quashes its subjects' capacity for identifying the systemic nature of said inequality (Bauman; Giroux). The effects of this are visible in the TikToks analyzed for this study. For example, in a TikTok from a young worker discussing her decision to quit her job, the user acknowledges the issue of race privilege and economic stability before immediately dismissing it: "I know I'm a privileged white lady with no kids, so it's a little easier for me, but you can quit too, we'll figure it out, I support you" (Sutter). Of course the user has no intention or ability to actually support her 1.9 million faceless viewers, but the implication is that anyone, regardless of their employability, earning potential, or the levels of workplace discrimination they face (all factors which are of greater concern to members of marginalized social groups) should be able to quit their job (Badgett and Schneebaum). The underlying assumption is that everyone has access to economic freedom and stability, demonstrating the ways in which neoliberalism has "depoliticized stratifications, exclusions, abjections, and inequalities" (Brown 27).

Sometimes this dismissal of systemic factors is more subtle. For example, in a TikTok meant to encourage workers to leave unfulfilling or exploitative jobs, user @corporatequitter says, "you want to leave your corporate job, your 9 to 5, but you're like 'oh im concerned about my well-being' and all that sht" (Gabby). The dismissive tone of this TikTok implies it is unreasonable to protect one's well-being by remaining in a job one dislikes. It fails to consider the many cases where people may need to do so for reasons beyond their control, for example, due to concerns about financial stability, employability, or the need to support dependents– all of which are more likely to affect people with less social privilege (Badgett and Schneebaum). Both these TikToks demonstrate the neoliberal, depoliticized belief that everyone should be able to find employment that provides adequate financial compensation and personal fulfilment, regardless of their social position.
Another powerful depoliticizing tool of late-stage neoliberal capitalism is its ability to present itself as natural and ineluctable, therefore reinforcing the existing social order. In Capitalist Realism, Mark Fisher explores the titular concept, which he describes as the pervasive, ambient, and accepted cultural belief that capitalism is the only viable economic system, and as such, its socio-political implications are inevitable (Fisher). Capitalist realism hinders our ability to connect this "unresponsive, impersonal, centreless, abstract and fragmentary [system]" (Fisher 64) to its social ramifications. This belief is evident in TikToks that describe the Great Resignation as a movement to "stabilize" the current economic system, which has become unequal: "like a stock market correction, this is a labor market correction… [the system] was woefully out of balance and it is correcting" (Sinek). This mindset suggests that neoliberalism can function as an equitable system, when in fact, "inequality is the premise and outcome of [the] competition" (Brown 64) upon which it depends. Another TikTok discussing the resignation says, "the pendulum has swung too far to one way for too long, and it's finally good to see it swinging back the other way. There has to be a healthy balance" (Creely). Again, the language of stabilization implies capitalism is natural and fixable, reinforcing "the neoliberal dystopian vision that there are no alternatives to a market-driven society" (Giroux and Giroux 2).
These TikToks evidence the lack of awareness of the inequality baked into neoliberalism. David Harvey writes, "increasing social inequality [has] in fact been such a persistent feature of neoliberalization as to be regarded as structural to the whole project" (16). Furthermore, this language of "stabilization" shows an inability to imagine alternative systems, supporting Fredric Jameson's assertion that, for many, it is now "easier to imagine the end of the world than it is to imagine the end of capitalism" (qtd. in Fisher 5).
D. The Workplace as a Site of Autonomy and Self-Realization: Critiques of Micromanagers and Surveillance Technologies, and The Moral Imperative to Self-Improve
As established, neoliberal ideology tends to dismiss systemic constraints that bear down on the material conditions of the modern individual's life in favour of individualized stories where one's status and success hinge on personal attributes. This enables the belief that individuals are essentially free and autonomous beings, making decisions that form their lives (Rose 10). Hence abstract, psychological traits like "drive", "ambition", "enterprise", and "charm" can be seen as the determinants of one's success, increasing the importance of psychology to the individual's self-perception. Rose writes the following:
psy acquires a particular significance within contemporary western forms of life, which have come to celebrate values of autonomy and self-realization that are essentially psychological in form and structure. These values establish and delimit our sense of what it is to be a human being, and what it is to live a life of liberty: indeed contemporary human subjects, at least when they are accorded the status of adults, are 'obliged to be free' in this psychological sense. That is to say, however apparently external and implacable may be the constraints, obstacles and limitations that are encountered, each individual must render his or her life meaningful as if it were the outcome of individual choices made in furtherance of a biographical project of self-realization. (viii – ix) With the neoliberal belief that individuals make decisions that determine their life trajectory, a sense of autonomy becomes essential to one's psychological well-being (Rose 221).
When considering the workplace, psychological traits like self-efficacy and independence are central to one's feelings of success. This is reiterated by Edgar Cabanas and Eva Illouz, who write that "happy workers"– meaning those who feel fulfilled by and motivated in work– "show more autonomy and flexibility" (220). These individuals:
engage in more risky behaviours by entering novel situations and pursuing newer and more challenging goals; make more creative and efficient decisions; easily recognize promising opportunities; and build richer and more extensive social networks. All of these are valuable personal features that are said to increase the odds of achieving more secure and better jobs and attaining higher incomes in the future. (220)
Thus the ability to make independent decisions is considered essential to workers' psychological well-being and financial success under neoliberalism. As such, it is somewhat unsurprising that a common complaint in TikToks about the Great Resignation concerned "micromanagers"– bosses who closely observe and attempt to control the work of their subordinates. Many TikTok users explain their frustrations with being micromanaged in terms of its psychological repercussions. For example:
Anyone who has to work with a micromanager knows how stifling it feels. It's essentially the sign of an incompetent boss that doesn't trust your autonomy even though you're competent and reliable. It undermines your sense of self-efficacy which then erodes your self-worth and devalues your standing in the organization over time. You might start to become frustrated by the lack of freedom, becoming consumed by self-doubt (Shadé).
This demonstrates a profound entrenchment of the belief in the autonomous, free self whose individual skills and aspirations should be harnessed through work. Micromanagers undermine the worker's belief in their own innate ability to self-govern, which, as evidenced by TikToks like the one quoted above, workers may find insulting and demanding. Many have internalized the values of capitalism to the point where they self-govern in its interest, and take offence at the suggestion that their ability to do so may be insufficient.
This belief in workers' autonomy and ability to self-govern can be also seen in reactions to being treated like a "machine" or a "child" at work. As Rose writes, the historical move to incorporate psychology into understandings of worker efficiency:
related the subjectivity of the worker to the demand for productivity in a new way. The worker was neither a mindless brute nor a psycho-physiological machine, but an individual with a particular psychological make-up in terms of intelligence and emotions, with fears, worries, and anxieties, whose work was hampered by boredom and worry, whose resistances to management were often founded in rational concerns, and whose productive efficiency was highly dependent upon sympathy, interest, satisfaction, and contentment. (67)
The modern worker is closely attached to their output, their subjectivity formed in terms of psychological traits like "motivation, self-direction, and responsibility" (Rose 110). Being micromanaged or closely surveilled damages the employee's belief in the quality of these traits and contradicts the "government at a distance" management style to which we have become accustomed, making power dynamics between owners or managers and subordinates more overt. TikTok user @jennahushka made a video expressing outrage about Goldman Sachs making its employees use badge swipes to ensure they come into the office five days a week. In the video she says, "They're going to start tracking their badge swipes… if you don't swipe in on time, you're in trouble. It's giving hall pass vibes, like we're a bunch of chaotic middle schoolers. We are adults" (Jenna). By eroding the worker's belief in their own autonomy, micromanagers and surveillance technologies threaten the neoliberal image of the autonomous individual, which is central to narratives about work as a venue for self-actualization.
But the desire for more hands-off, self-driven work may actually contribute to the instability of labour under neoliberalism. Bauman writes:
Panopticon-like, bulky, clumsy and awkward installations of surveillance and drill are no longer necessary. Labour has been let out of the Panopticon, but, most importantly, capital has shed the vexing burden and exorbitant costs of running it; capital got rid of the task which tied it to the ground and forced it into direct engagement with the agents exploited for the sake of its self-reproduction and self-aggrandizement… Capital can travel fast and travel light and its lightness and motility have turned into the paramount source of uncertainty for all the rest. This has become the present-day basis of domination and the principal factor of social divisions. (121)
Hence individuals' internalization of neoliberal ideology, with its emphasis on self-responsibilization and self-governance, may actually strengthen this system, allowing capital to depend on workers to act in ways that serve its interests, with few to no resources dedicated to enforcing this. Capital now has fewer direct ties to labour through management and discipline technologies, allowing it to re-allocate those resources to its own growth. Bauman calls this "light capitalism" (121). While "heavy capitalism" (122) focused on "forcing or bribing [manpower] to stay put and to work on schedule" (122), light capitalism prefers brief contracts to lasting engagements, and distant management to in-person engagement, allowing operations to suddenly relocate and restructure for the sake of profit, "throwing overboard every bit of non-vital load and leaving the non-indispensable members of the crew on the ground" (122). This may be a contributing factor to the job instability experienced by workers in the current market.
Another effect of this "[obligation] to be free" (Rose vii) under neoliberal capitalism is the expectation to consistently make decisions that maximize financial success and professional growth. This belief is prevalent in a number of Great Resignation TikToks that encourage viewers to leave jobs that are no longer developing their skills or that pay less than the "the market demand is for [their] skill set" (Liang). Personal Finance TikToker John Liang has built a successful social media career teaching viewers how to discuss raises with their bosses and resign when their employer is not matching competing offers. Of course, this is a useful skillet to foster. Pursuing better compensation can even be seen as a resistance to the persuasive narratives that suggest work should be a site of care, personal fulfilment, or anything besides financial compensation. However, it is interesting to see how the pursuit of financial growth is moralized and related back to internal, psychological traits, with commenters saying "you need to know your worth" and "you are failing yourself by accepting less than what you deserve" (Liang; Wynn). In another TikTok from user @corporatequitter, she says:
If that job.. Is no longer aligned, it's totally okay to jump ship. You've outgrown it. You've already learned what you needed to learn, so it's time to move on. You owe it to yourself to try something different… bet on yourself. You would not let yourself down, ever. (Gabby)
This moralized tone and language of obligation make apparent the expectation that one continuously seeks out opportunities for self-improvement. The deferral to abstract psychological traits like "self-worth" evidence the therapeutic culture described by Rose, Cabanas and Illouz, where issues an individual encounters in their work can be explained and solved by attending to their unique psychology. Within neoliberal discourse, endless self-development is said to contribute positively to the psychological make-up of the individual (Rose 219). Hence, dissatisfaction in the workplace can be framed as an individual problem, perhaps a result of complacency, or not pushing oneself to meet one's full potential.
The psychotherapeutic language used in these discourses of self-improvement proposes a culture in which "the therapeutic imperative appears as much a matter of healing ourselves as it is of being cured" (Rose 218). The neoliberal subject is placed in a constant cycle of self-improvement or "healing", never to be fully self-realized or "cured" of the imperative to become a better version of themselves. The individual is morally obliged to undertake this endless project of self-realization and self-development in order to better manage life and themselves (Rose 226).
Yet this pressure to continuously maximize one's success in terms that are legible to capitalism has been met with resistance by other young people discussing the Great Resignation. TikTok user @emthecaptain discussed feeling pressure to continue striving in work despite having all of her psychological, emotional, and physical needs met:
People are always asking me "Em, what's next? Are you going to go after your dream job? Are you going to go back to school now?.. Turn your hobby into a side hustle. Start waking up at 4 am. Harass people to buy off your etsy shop". No! I'm just chilling. I have peace and stability. I have a loving boyfriend, 2 dogs, a house, a job… this is all I ever wanted. That was my dream. I achieved my dream. So why am I expected to do more? To be more? I'm satisfied with my life, so why can't other people be satisfied with my satisfaction? (Em)
Therefore, it is not a taken for granted truth that self-improvement yields psychological benefits. When individuals do believe this, it may serve the interests of capitalism by creating employees who strive to be more productive, efficient, and successful at work, seemingly for their own benefit. But not all young people discussing the Great Resignation agree that this form of self-governance is beneficial to the worker. In reality, young people navigate their relationships with work in complex and varying ways.
E. Counterexamples
This paper has focused on the ways in which narratives around the Great Resignation espouse neoliberal ideology in their depictions of worker subjectivity. Many common discourses around work make it occupy a central role in an individual's life and identity (either as a site of care, purpose, and self-realization). This may, in turn, make the worker self-govern in ways that suit the interests of capital, and even obscure the fundamentally unequal nature of employment and the systemic issues that stem from the current socioeconomic order. However, it would be inaccurate to say that all the discussions of the Great Resignation on TikTok embrace these narratives equally, or that they represent the views of all (or even most) Gen Z and Millennial age people. Searching "the Great Resignation" on TikTok reveals many videos of young people criticizing the impulse to make work a central aspect of their identity and opposing the assertion that work should be anything more than a paycheck. The aforementioned videos from teachers who quit due to exploitative working conditions, and the video from @emthecaptain about being satisfied in her life provide potent examples of this. Another popular TikTok echoes this sentiment: "I used to desperately want to climb the corporate ladder but now I'm realizing that it's just a job. As long as I can pay my bills, go on holiday, and afford a good bottle of wine, I'm successful enough" (Hosanna).
There is also a growing movement of people who endorse "quiet quitting", which entails being lazy at work:
A lot of people are kicking back and taking it easy instead of quitting their jobs… over the last year… there's been a seismic shift in how people view their relationship with the work arrangement… for those of us who grew up in 'hustle culture' where you had this constant, incessant need to work… and work becomes the main priority in your life in order to get ahead… I think that that has taken a seismic shift… there are a lot of people… doing the minimum amount necessary in order to maintain [their] position… people just don't want to give that kind of energy to a corporation anymore. (Creely)
TikTok user @chelseazefrina agrees, saying "your job is not your life, therefore your job should not consume your life… it's okay to just do the bare minimum at work. Just do what you need to do and go home" (Zeferina). The tens of thousands of likes these videos have garnered suggest that many viewers agree. Hence the narratives that work should be the source from which one derives care and purpose, and the venue through which they achieve self-actualization, are not universally agreed upon.
There are also a number of TikToks connecting the Great Resignation back to economic concerns and social issues. In a video critiquing the 60 Minutes segment on the Great Resignation, user @travisshreffler counters the argument made by the chief economist at Linkedin, who said that "the pandemic allowed people to reevaluate what it is they want out of life". In the video he incredulously responds "[are you sure it's] not that it caused the people to reevaluate how glaringly obvious it is that corporate America does not give two shts about the lives of its workers?" (Travis). A TikTok from @stillfrompluto pushes back against the narrative that caring managers alone can improve employee retention when, he argues, fair compensation is more frequently the issue: "Money makes people leave [jobs]. People say 'people don't leave bad jobs, they leave bad bosses'… that's only true half the time. A lot of times people leave jobs
that they love because of economic circumstances" (Pluto). User @ravyntheweirdo commented on a video that suggested the Great Resignation was a result of toxic work cultures, saying "Lol what? I do not care about company culture. I care about being paid well and still being able to live life" (Rae).

Again, it is clear that the narratives around work as a site of care, purpose, and self-actualization are not wholly uncontested. There are young people taking to TikTok to discuss their relationship with work as a straightforward means to a financial end. In response to @recklesslyalive's video about being treated as "just a pulse and a job to fill", user @brodent22 commented "I am just a pulse, but they're just a paycheck, so I guess we're even".

V. Conclusion:
Though the narratives they adopt reveal a range of expectations about work, all of the TikToks analyzed spring from reasonable discontent about existing working conditions. This paper has focused on the ways that neoliberal ideology can be seen in many of these expectations, but the purpose has not been to condemn these workers for wanting what these potent (if possibly fallacious) narratives have promised them. It is also not meant to suggest that expecting these things from work always reifies capitalism; for example, individuals who make their livings working at grassroots, anti-capitalist mutual aid organizations may still expect care and fulfilment from their work. However, when applied to members of the workforce who left their jobs during the Great Resignation (the vast majority of whom were employed in the private sector), these narratives may encourage the worker to self-govern in ways that buttress the current social order (Leonhardt).

It is also important to acknowledge that social media– while a powerful tool for meaning-making which may impact dominant views and encourage particular lines of thinking– does not necessarily represent the true beliefs of the users who post, view, or like the content. People negotiate their own relationships with the media they consume, at times thinking critically about and opposing the messaging they receive. The present study does not explore how these social media discourses around work are received and understood by TikTok viewers. Additionally, people post content on social media that may not be reflective of their true beliefs for a variety of reasons, at times strategically creating controversy or adopting popular rhetorics in order to gain viewership. As such, the TikToks found under "the Great Resignation" provide a very limited view into the true psychic lives of young people and how they navigate their personal relationships with work.

It is also with noting that, while Rose explores how the initial impetus to monitor quality of working conditions was a veiled attempt to improve productivity for industry's sake, in effect, these changes have made labour conditions much safer and compensation much fairer for workers. Again, the analysis in this paper is not to suggest that expecting better treatment or more personal fulfilment from work is wrong, or a result of sinister, conspiring forces. It would be entirely unhelpful to criticize these expectations as a straightforward result of neoliberal ideology. But as discussed, these changing expectations of work may obfuscate the inherently transactional and unequal nature of the labour agreement, convincing workers that work should be a site of care, purpose, autonomy, and personal growth, and as such, minimizing socioeconomic concerns. Doing so may encourage members of the workforce to self-govern in ways that benefit capital, thus naturalizing and reinforcing this exploitative economic system.

Finally, this study is also not meant to dismiss or neutralize the activist potential of the Great Resignation. The movement has achieved a monumental task by shedding light on the cracks in late-stage capitalism, highlighting how disenchanted the average worker is with the expectations of their workplace. Hence, the anti-capitalist potential of this movement is apparent, exciting, and should not be ignored. However, I believe it is worthwhile to examine the ways in which neoliberal ideology persists even in the face of massive, widespread worker unrest. The pro-worker promise of this movement should not be taken for granted, lest the opportunity to unite behind a broad-based, anti-capitalist movement be wasted. Young people discuss this movement in non-uniform ways, some of which oppose neoliberal capitalism, and some of which may strengthen it. I believe it is useful to deliberately and critically parse through these conflicting discourses in order to see where their unifying potential may lie.

While social media has certainly helped the Great Resignation gain traction and generate public discourse, it may not be the forum through which this movement can achieve its fullest emancipatory capacities. In Scorched Earth: Beyond the Digital Age to a Post-Capitalist World, Jonathan Crary writes the following:

Online life generates needs that are manageable within its self-sufficient enclosure, and it regulates what is permissible to dream. It is only when desires and hopes cling to life in a shared physical world, no matter how broken, that a person grows capable of refusal, and can feel enmity toward the powers and institutions that assault and smother those hopes.
(79)

Corporate-owned social media platforms are innately tied to the interests of capital, making them ill-suited venues for anti-capitalist critique. This is evident in the tendency of online discussions to call for reform rather than the radical restructuring of the prevailing economic system (Crary 193). To quote Crary again, most often, the target of online activism is not capitalism, "but the supposed excesses and violations that have been imposed on a fundamentally reformable but indispensable system. It is a deflection of critique that affirms the permanence and necessity of the existing underlying arrangements" (194). When discussions of worker-led movements like the Great Resignation remain primarily online, they can easily be reformed into narratives of individual self-actualization, rather than adding to a collective story of radical class uprising. When this occurs, capitalism remains uncontested. If young workers wish to meaningfully alter the exploitative conditions of late-stage capitalism, they will likely need to go offline and engage with their immediate communities, because "the truth is irrefutable: there are no revolutionary subjects on social media" (Crary 35).

An equally important challenge is for workers to identify and discuss the effects of neoliberalism on current socio-economic conditions, in order to counter the "capitalist realism" that allows the prevailing system to go unnamed and unquestioned. Only when the workings of neoliberalism are made visible can we begin the "difficult project of puncturing common neoliberal sense and… developing a viable and compelling alternative to capitalist globalization" (Brown 222). We need to embrace hopeful, imaginative thinking and radical action in order to meaningfully restructure workplaces to prevent the exploitation and inequality intrinsic to capitalism. Essential to this project is an ability for workers to resist the individualization and atomization that hinders broad-based class struggle and collective movements. As Michael Yates writes, "the 'I' must be suppressed and the 'We' must come to the fore" (140).
Works Cited
"After the Great Resignation, Where Did All the Canadian Workers Go? | CBC News."CBCnews, CBC/Radio Canada, 1 Aug. 2022,
https://www.cbc.ca/news/canada/british-columbia/great-resignation-canadian-workers-1.
6535538.

Badgett, M.V. Lee, and Schneebaum Alyssa. "The Impact of Wage Equality on Sexual Orientation Poverty Gaps." Williams Institute, 26 Apr. 2020,
https://williamsinstitute.law.ucla.edu/publications/impact-wage-equality-so-poverty/.

Bauman, Zygmunt. Liquid Modernity. Polity Press, 2000.

Bhandari, Aparajita, and Sara Bimo. "Why's Everyone on TikTok Now? the Algorithmized Self and the Future of Self-Making on Social Media." Social Media + Society, vol. 8, no. 1,
2022, p. 205630512210862., https://doi.org/10.1177/20563051221086241.

Blueneck Teacher [@blueneckteacher]. "Why i left teaching in a nutshell. No regrets". TikTok,26 June 2022.
https://www.tiktok.com/@blueneckteacher/video/7113541699229502763?is_copy_url=1
&is_from_webapp=v1&lang=en&q=teacherexodus&t=1660537785291

Brodent22 [@mojodojo20]. ""I am just a pulse, but they're just a paycheck, so I guess we're even". TikTok, 31 Oct. 2021, https://www.tiktok.com/@brodent22

Brown, Wendy. Undoing the Demos: Neoliberalism's Stealth Revolution. Zone Books, 2016.

Cabanas, Edgar, and Eva Illouz. Manufacturing Happy Citizens: How the Science and Industry of Happiness Control Our Lives. Polity Press, 2019.

Carscallen, Kristy, and Doron Melnick. "Where the Great Resignation Might Be Headed in Canada, and What Employers Should Do about It." The Globe and Mail, The Globe and Mail, 16 Mar. 2022,
https://www.theglobeandmail.com/business/careers/leadership/article-where-the-great-res
ignation-might-be-headed-in-canada-and-what/.

Cook, Ian. "Who Is Driving the Great Resignation?" Harvard Business Review, 10 Nov. 2021, https://hbr.org/2021/09/who-is-driving-the-great-resignation?ab=hero-main-text.

Crary, Jonathan. 24/7: Late Capitalism and the Ends of Sleep. Verso, 2014.

Crary, Jonathan. Scorched Earth: Beyond the Digital Age to a Post-Capitalist World. Verso,
2022.

Creely [@lifeafterlayoff]. "More people are "quiet quitting" instead of leaving". TikTok, 4 March 2022. https://www.tiktok.com/@alifeafterlayoff/video/7071415799247949099?is_copy_u
rl=1&is_from_webapp=v1&q=%40%40lifeafterlayoff%20great%20resignation&t=1660
609805290

DmetriKepi [@dmetriKepi]. "#stitch with @stellaescobedotv". TikTok, 17 April 2022,
https://www.tiktok.com/@dmetrikepi/video/7087630724815146282?is_copy_url=1&is_f
rom_webapp=v1&q=dmetrikepi%20great%20resignation&t=1660572389515

Dr. Kim Hires [@drkimhires]. "Pay attention, they are telling you a lot". TikTok, 27 June 2022.
https://www.tiktok.com/@drkimhires/video/7102555450981338411?is_copy_url=1&is_f
rom_webapp=v1&q=%40Dr.%20Kim%20Hires%20great%20resignation&t=166060986
4170

Eaton, Sam [@recklesslyalive]. "When did we lose the plot that life is about loving people and lifting up others?". TikTok, 30 Oct. 2022,
https://www.tiktok.com/@recklesslyalive/video/7024886488101915950?is_copy_url=1&
is_from_webapp=v1&q=recklessly%20alive%20great%20resignation&t=166058640035
3

Em [@emthecaptain] "#stitch with @breecard in "hustle culture" the goalpost is always moved" TikTok, 15 April 2021,
https://www.tiktok.com/@emthecaptain/video/6951462312687521029?is_copy_url=1&is
_from_webapp=v1

Fisher, Mark. Capitalist Realism: Is There No Alternative? O Books, 2009.

Franceschelli, Michela, and Avril Keating. "Imagining the Future in the Neoliberal Era." YOUNG, vol. 26, no. 4_suppl, 2018, https://doi.org/10.1177/1103308817742287. FriendFromWork [@yourfriendfromwork]. "#thegreatresignation #greatresignation #funnyyyyskit #corporatelife". TikTok, 21 Sept. 2021, https://vm.tiktok.com/ZMNG3vuPX/
Gabby [@corporatequitter]. "You've already died before you're dead 😳🤔". TikTok, 18 Oct. 2021, https://www.tiktok.com/@corporatequitter/video/7020399441421110534?is_copy_
url=1&is_from_webapp=v1&q=%40corporatequitter%20great%20resignation&t=16606
09585673

Gabby [@corporatequitter]. "I said it before, I'll say it again 󰢦󰡆". TikTok, 14 Feb. 2022,
https://www.tiktok.com/@corporatequitter/video/7064572013989465390?is_copy_url=1
&is_from_webapp=v1&q=%40corporatequitter%20great%20resignation&t=1660609585
673

Giroux, Henry A. Disposable Youth: Racialized Memories, and the Culture of Cruelty. Routledge, 2016.

Giroux, Henry A. "Henry A. Giroux: The Violence of Organized Forgetting." Truthout, Truthout, 22 July 2013, https://truthout.org/articles/the-violence-of-organized-forgetting/.

Giroux, Henry A. "The US Is Descending into a Crisis of Overt Fascism. There's Still a Way out." Truthout, Truthout, 14 July 2022,
https://truthout.org/articles/the-us-is-descending-into-a-crisis-of-overt-fascism-theres-still
-a-way-out/.

Giroux, Henry A., and Susan Searls Giroux. "Beyond Bailouts: On The Politics of Education After Neoliberalism." Policy Futures in Education, vol. 7, no. 1, 2009, pp. 1–4.,
https://doi.org/10.2304/pfie.2009.7.1.1.

Government of Canada, Statistics Canada. "Census Profile, 2016 Canada." Census Profile, 2016 Census – Canada [Country] and Canada [Country], 27 Oct. 2021,
https://www12.statcan.gc.ca/census-recensement/2016/dp-pd/prof/details/page.cfm?Lang
=E&Geo1=PR&Code1=01&Geo2=PR&Code2=01&Data=Count&SearchText=Canada&
SearchType=Begins&SearchPR=01&B1=Visible+minority&TABID=1.

Graeber, David. Bullshit Jobs. Simon & Schuster, 2018.

Greenhouse, Steven. "'Striketober' Is Showing Workers' Rising Power – but Will It Lead to Lasting Change?" The Guardian, Guardian News and Media, 23 Oct. 2021,
https://www.theguardian.com/us-news/2021/oct/23/striketober-unions-strikes-workers-las
ting-change.

Griffith, Erin. "Why Are Young People Pretending to Love Work?" The New York Times, The New York Times, 26 Jan. 2019,
https://www.nytimes.com/2019/01/26/business/against-hustle-culture-rise-and-grind-tgim
.html.

Harvey, David. A Brief History of Neoliberalism. Oxford University Press, 2011.

@heyjenbartel. "The Great Resignation Is in Fact, the Direct Result of a Decade of Companies Undervaluing and Exploiting Workers While Pushing the Rise-and-Grind-Be-Your-Own-Boss-Ceo-Mindset-Hustle-Culture of the Gig Economy. Bosses Decry Labor Shortages but All Your Workers Did Was Believe You." Twitter, Twitter, 29 Dec. 2021, https://twitter.com/heyjenbartel/status/1476258755910291462.

Hoffower, Hillary. "Money Isn't Everything for the 20% of People Who Regret Quitting Their Jobs during the Great Resignation." Business Insider, Business Insider, 19 Apr. 2022,
https://www.businessinsider.com/how-many-great-resignation-regret-quitting-jobs-for-hi
gher-salary-2022-4.

Hosanna [@thetechchornr]. "Doing just enough baddies". TikTok, 31 March, 2022,
https://www.tiktok.com/@thetechcornr/video/7081359476451855622?is_copy_url=1&is
from_webapp=v1&item_id=7081359476451855622 Jacobson, Lindsey. "The 'Great Resignation' Is a Reaction to 'Brutal' U.S. Capitalism: Robert Reich." CNBC, CNBC, 4 Feb. 2022, https://www.cnbc.com/2022/02/04/robert-reich-great-resignation-general-strike-health-ca re-childcare.html.
Jenna [@jennahushka]."I get overwhelmed even with tracking my daily habits so I can't imagine BADGE tracking". TikTok, 5 April 2022, https://www.tiktok.com/@jennahushka/video/7083210653401435434?is_copy_url=1&is _from_webapp=v1&q=jennahushka%20golman%20sachs&t=1660610367472 Korducki,
Kelli. "Quitting Has Become Is Contagious. TikTok Is Exploding with People Bragging about Their Resignations." Fortune, Fortune, 24 Jan. 2022, https://fortune.com/2022/01/22/social-comparison-social-media-great-resignation/.
Leonhardt, Megan. "The Great Resignation Is Hitting These Industries Hardest." Fortune, Fortune, 16 Nov. 2021, https://fortune.com/2021/11/16/great-resignation-hitting-these-industries-hardest/.
Liang, John [@johnsfinancetips]. "The great resignation is here! Time for a new job?". TikTok, 23 March 2022, https://www.tiktok.com/@johnsfinancetips/video/7078449827171929386?is_copy_url=1 &is_from_webapp=v1&lang=en&q=the%20great%20resignation&t=1660537234493
Lichtenstein, Nelson. "Perspective | Are We Witnessing a 'General Strike' in Our Own Time?" The Washington Post, WP Company, 18 Nov. 2021, https://www.washingtonpost.com/outlook/2021/11/18/are-we-witnessing-general-strike-o ur-own-time/.
Lindsey [@.lindseyb]. "Nothing says I appreciate u like a small bag of Miss Vickie's chips". TikTok, 2 May 2022, https://www.tiktok.com/@.lindseyb/video/7093224203222289710 Liztilia [@femhomeec]. "🫶🫶". TikTok, 27 July 2022, https://www.tiktok.com/@femhomeec/video/7125168813624053038?is_copy_url=1&is
from_webapp=v1&item_id=7125168813624053038&lang=en

Maxine [@maxinemtl]. "The best leaders treat people as humans beings and genuinely care for
others.✨ What other reasons did I forget?". TikTok, 25 June 2022,
https://www.tiktok.com/@maxinemtl/video/7113300618135080197?is_copy_url=1&is_fr
om_webapp=v1

McMenamin, Lexi. "On R/Antiwork, Workers Know Their Worth." Teen Vogue, Teen Vogue, 9
Nov. 2021, https://www.teenvogue.com/story/reddit-antiwork-viral.

Millennial Ms. Frizzle [@millenialmsfrizz'] "Replying to @karinalea2005 Leaving teaching is really hard. Its a culture, a community, a family. You are taught to believe your identity and worth are based in your membership as a teacher. When you do leave, you are blamed". TikTok, 4 July 2022,
https://www.tiktok.com/@millennialmsfrizz/video/7128117459667651886?is_copy_url=
1&is_from_webapp=v1&q=teacherexodus&t=1660538039773

Mitchell, Alex. "'Anti-Work' Threads on Reddit Are Fueling the Great Resignation." New York Post, New York Post, 17 Jan. 2022,
https://nypost.com/2022/01/17/anti-work-threads-on-reddit-fueling-the-great-resignation/.

Needelman, Joshua. "Like a Bully in the Schoolyard, Fox News Sets Its Sights on the Anti-Work Movement." The Guardian, Guardian News and Media, 1 Feb. 2022,
https://www.theguardian.com/global/2022/jan/31/fox-news-jesse-watters-antiwork-subre
ddit-interview.

Nover, Scott. "TikTok Is Growing up, and so Are Its Users." Adweek, Adweek, 26 May 2020,
https://www.adweek.com/performance-marketing/tiktok-is-growing-up-and-so-are-its-use
rs/.

Pluto, Sonny [@stillfrompluto]. "#stitch with @saharrooo #thegreatresignation #jobmarket2022recession #iquit #layoff". TikTok, 16 July 2022. https://www.tiktok.com/@stillfrompluto/video/7121004432405564718?is_copy_url=1&i
s_from_webapp=v1

Rae [@ravyntheweirdo]. ""Lol what? I do not care about company culture. I care about being paid well and still being able to live life". TikTok, 11 Nov. 2021,
https://www.tiktok.com/@ravyntheweirdo

Reich, Robert. "Robert Reich: We're Living under the Cruelest Form of Capitalism in the World." In These Times,
https://inthesetimes.com/article/robert-reich-elon-musk-capitalism-inequality-wealth-tax.

Rose, Nikolas S. Governing the Soul: the Shaping of the Private Self. Free Association Books, 2005.

Sam [@apowermood] "How to tell your boss that you quit. Save this for later!" TikTok, 4 June 2022,
https://www.tiktok.com/@apowermood/video/7128066397091155246?is_copy_url=1&is
from_webapp=v1&lang=en Sam [@apowermood] "Is this your sign??" TikTok, 27 Jun 2022, https://www.tiktok.com/@apowermood/video/7113964625762192683?is_copy_url=1&is _from_webapp=v1&lang=en Shadé Z. [@shadezahrai]. "Time to QUIT YOUR JOB?? 5 Red Flags". TikTok, 1 May 2022. https://www.tiktok.com/@shadezahrai/video/7092783341488917762?is_copy_url=1&is
from_webapp=v1&q=shadezahrai%20great%20resignation&t=1660607688194

Silber, Melissa [@melissasilbercpa]. "As a member of the #greatresignation, I'm totally in support of those who are #quietquitting! Many employers are flat out abusing employees, and employees need to consciously work on creating boundaries that either didn't exist before or have eroded over time". TikTok, 12 July 2022, https://vm.tiktok.com/ZMNG3vhg/

Sinek, Simon [@simonsinek]. "To understand why people are leaving, we should take a look at corporate cultures". TikTok, 10 Oct. 2021, https://www.tiktok.com/@simonsinek/video/7021237541592419590?is_copy_url=1&is_from_webapp=v1&q=great%20reisgnation%20simon%20sinek&t=1660608901199

Sinek, Simon [@simonsinek]. "Reply to @emmajeanius The Great Resignation is a big one! Here are my thoughts… more answers to come soon!". TikTok, 24 March 2022,
https://www.tiktok.com/@simonsinek/video/7078729972193561898?is_copy_url=1&is_f
rom_webapp=v1&q=great%20reisgnation%20simon%20sinek&t=1660608901199

Sull, Donald, et al. "Toxic Culture Is Driving the Great Resignation." MIT Sloan Management Review, 11 Jan. 2022,
https://sloanreview.mit.edu/article/toxic-culture-is-driving-the-great-resignation/.

Tenbarge, Kat. "'I Quit' – Reddit Users Are Posting Angry Resignation Texts to Their Bosses on an 'Anti-Work' Subreddit." Insider, Insider, 19 Oct. 2021,
https://www.insider.com/great-resignation-quit-job-subreddit-anti-work-antiwork-workershortage-2021-10.

The Labor Lawyer [@attorneyryan]. "How to write the perfect resignation letter." TikTok, 12 Dec. 2021, https://vm.tiktok.com/ZMNG3cxCY/

Travis [@travishreffler]. "60 Minutes should just Big Quit". TikTok, 11 Jan. 2022,
https://www.tiktok.com/@travisshreffler/video/7051989084067138862?is_copy_url=1&i
s_from_webapp=v1&q=travisshreffler%20great%20resignation&t=1660586062808
U.S. Census Bureau Quick Facts: United States.
https://www.census.gov/quickfacts/fact/table/US/PST045221.

Utomi, Trisha. "Is the Great Resignation over? Not Even Close." HRPA, 7 Apr. 2022,
https://www.hrpa.ca/hr-insights/is-the-great-resignation-over-not-even-close/.

Weibo, Sina. "China's New 'Tang Ping' Trend Aims to Highlight Pressures of Work Culture."
BBC News, BBC, 3 June 2021, https://www.bbc.com/news/world-asia-china-57348406.

Whitaker, Bill. "The Great Resignation: Why More Americans Are Quitting Their Jobs than Ever Before." CBS News, CBS Interactive,
https://www.cbsnews.com/news/great-resignation-60-minutes-2022-01-10/.

Wilson, Julie A. "The Hustle." Neoliberalism, Routledge Taylor & Francis Group, New York, 2018, pp. 117–149.

Wynn, Naam [@naamwyn]. "Putting my two weeks notice". TikTok, 14 Oct. 2022,
https://www.tiktok.com/@naamwynn/video/7018682316474109190?is_copy_url=1&is_f
rom_webapp=v1&q=naamwyn%20great%20resigantion&t=1660610209146

Yates, Michael D. Can the Working Class Change the World ? Monthly Review Press, 2018.

Zeferina, Chelsea [@chelseazeferina]. "have a great week! 😅". TikTok, 5 June 2022.
https://www.tiktok.com/@chelseazeferina/video/7105958855175114030?is_copy_url=1a
&is_from_webapp=v1&q=chelseazefrina%20great%20resignation&t=1660585940573
Read more at By Tiana Gammie.
Theses
Related News
News Listing
No results available.